Earlier this month Just Kai was privileged to have a guest post In fair&good's online Journal. Here's what Heather had to say.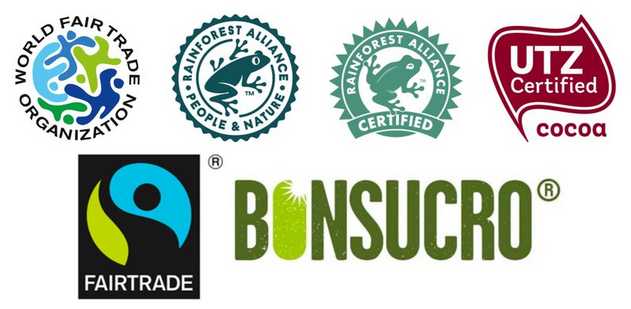 When it comes to ethical food certifications, Just Kai recommends Fairtrade, WFTO, Rainforest Alliance and Bonsucro.
We've all heard of greenwashing: companies making great-sounding environmental claims with very little behind them. Sadly, the same happens with ethical claims, too. How can we know which products are slave free?
When it comes to food with cocoa or sugar in it, the most reliable thing is to look for reputable slave-free logos on the packaging. We recommend Fairtrade, WFTO, Rainforest Alliance and Bonsucro.
But couldn't we just buy New Zealand made? Slavery is extremely rare here in Aotearoa, so New Zealand made products should be slave free, shouldn't they?
Unfortunately not - no Kiwi chocolate company has a cocoa plantation out the back, after all! Slavery is most likely at the very beginning of the supply chain – on plantations and fishing boats. Any food with imported ingredients is at risk; products that include fish, cocoa or sugar should be looked at particularly carefully (they're the foods at highest risk of slavery in their supply chains).
If you want to know if something is slave free, the first step is simple: what do they actually claim?
Around 20% of cocoa is produced by kids, so when I look to buy chocolate that's my key concern: is it child labour free? If I come across a chocolate bar claiming to be 'ethical' that only tells me how they're saving gorillas, I won't buy it. It's not like I don't care about gorillas, but I care a lot more about whether the kids are safe!
But when they do say they're child labour free, things get a bit more complicated. Can you trust what they say? That's where reliable certifications come in. At Just Kai we look for certifications that:
have standards that are publicly available, cover the key issues we're concerned about (that's child labour and forced labour), and have a transparent revision process;
regularly audit certified businesses against those standards, ideally using a third-party auditor who does unannounced audits;
have penalties (including losing certification) for companies that don't meet the standards;
are administered by a body independent of the companies that dominate that industry.
Look for reliable slave-free certifications
When it comes to cocoa and sugar products, we've identified four reliable slave-free certifications: Fairtrade, WFTO, Rainforest Alliance/UTZ* and Bonsucro.
When you see any of those marks on a bar of chocolate or bag of sugar, you can be confident there was no child labour and no forced labour used in the production of that product.
*Rainforest Alliance and UTZ are two separate certifications that recently merged. You currently see products with the old Rainforest Alliance logo, the old UTZ logo, or the new Rainforest Alliance logo of the merged organisation. All of these reflect the same standards, which are a mix of the environmental standards of the old Rainforest Alliance and the human welfare standards of UTZ. The old logos should all be phased out by the end of this year, which will make things less confusing!
That said, those four certifications are far from equal
When it comes to human welfare, Rainforest Alliance/UTZ and Bonsucro don't guarantee much more than that they're slave-free.
On the other hand, both WFTO (the mark you'll see on Trade Aid products) and Fairtrade also check for other welfare issues, such as the safe use of pesticides; they also make sure producers are never paid less than a certain minimum price.
So, if you see any of these certification marks on a tub of ice cream or a chocolate bar, you can be confident the product was made without slave labour; but if you have a choice, buy a Fairtrade or WFTO product – they're a much better deal for the producers.
Just Kai maintains lists of all the cocoa and sugar products we know of with any of these certifications, as well as putting out annual lists for Christmas and Easter seasonal chocolate. You might be surprised how many reliably slave-free options we've found!
What about certifications like Cocoa Life or Cocoa Horizons: they seem to be used pretty widely – can we trust them?
Those certifications don't have publicly available standards, so we can't really be sure what they're checking for – plus they are controlled by large chocolate companies, rather than independent organisations, which makes them less likely to be rigorous. All of that makes it a lot harder to be confident they're reliably slave free.
If you come across other certifications and you're not sure if they're any good or not, one place to look is The International Guide to Fair Trade Labels. That contains information which you can compare against our criteria for a reliable label. If the logo you're seeing isn't there, Googling it's name along with words like 'criticism' or 'reliable' can give you some idea of what other people have found out about it.
Are there ethical food certifications for fish?
At the beginning I mentioned that the three foods at highest risk of slave labour in their supply chains were fish, cocoa and sugar. I've talked a lot about cocoa and sugar, but what logos should you be looking for on fish products?
Sadly, whilst you'll see 'dolphin-friendly' labels on many processed fish products, you won't find any 'human-friendly' labels. In researching the fish industry for Just Kai, though, I've learned that certifications are still significant: just not customer-facing ones.
Responsible companies will always ask about certifications or audits when choosing a processing factory. If your favourite brand isn't featured on any of our guides, why not contact them and ask if they're using a certified factory? Reliable fish factory certifications include SA8000 and TLS8001; SMETA audits are also valuable.
Ask them, as well, if they're engaging a third-party organisation to audit the vessels that catch their fish, especially if they buy fish caught overseas – that's something at least one large Kiwi company does. And hopefully one day we'll see reliable certifications widely used on fish, too, making buying ethical fish as easy as buying ethical chocolate.