In recent months Just Kai has spotted two new brands of chocolate made without child labour. OLA Pacifica, which paused sales for a year or two to research more sustainable production, is back and doing free delivery throughout New Zealand. They exclusively use Samoan cocoa. And Arnott's has released a range of chocolate blocks inspired by their classic biscuits. Unlike their biscuits, the chocolate blocks are all made with UTZ-certified cocoa. We've also spotted new products from Trade Aid, Vego and Nestle, with WFTO, Fairtrade and UTZ-certification respectively. Lastly, we're sad to report the loss of several Fairtrade-certified products. Oxfam appears to have decided to withdraw from the retail market, so their chocolate blocks and hot chocolate are no longer available. Whittakers has removed Fairtrade certification from their 250g blocks of milk and dark chocolate, although that's a complicated story. Read on for more detail or check out our full cocoa buying guide.

Table of Contents
New brands
OLA Pacifica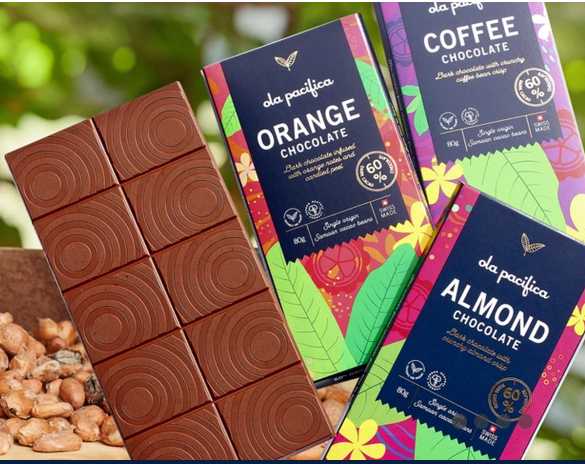 OLA Pacifica exclusively uses Samoan cocoa, which is always free of child and slave labour so doesn't need to be certified as such. Their products are also vegan-friendly and carbon neutral. They sell 80g bars of almond, coffee and orange-flavoured chocolate, all made with 60% cocoa. OLA Pacifica sells online and ship throughout New Zealand.
Arnott's blocks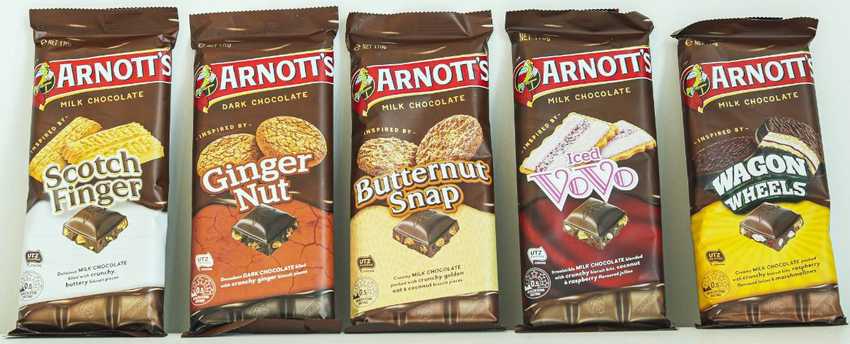 Arnotts has released five chocolate blocks inspired by their biscuit range. Unlike their biscuit range, they are making these with UTZ-certified cocoa. Here's hoping they'll shift to UTZ cocoa for the rest of their range soon!
The chocolate blocks are:
Scotch finger (milk chocolate with buttery, crunchy biscuit pieces)
Gingernut (dark chocolate with gingernut pieces)
Butternut snap (milk chocolate with oat and coconut biscuit pieces)
Iced vovo (milk chocolate with biscuit pieces, raspberry jellies and coconut)
Wagon wheels (milk chocolate with biscuit pieces, raspberry lollies and marshmallows).
New flavours from existing brands
Trade Aid

Trade Aid has expanded their chocolate range to include hazelnut milk chocolate (40% cocoa) as a 100g bar. All Trade Aid products (not just their chocolate) are certified fair trade through the World Fair Trade Organisation. Their full range of chocolate blocks is now:
classic dark chocolate (55%)
pure dark chocolate (70%)
extra dark chocolate (85%)
rich milk chocolate (40%)
milk hazelnut (40%)
milk chocolate caramel crunch (40%)
dark raspberry chocolate (55% - amazing!)
dark chocolate with mint (70% - really good!)
dark chocolate with salt toffee crisp (70%)
Vego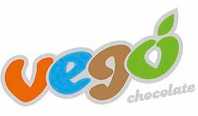 Vego started by selling Fairtrade certified vegan chocolate/hazelnut products (pralines, bars, spread etc.). They have now expanded their range of vegan Fairtrade-certified bars to include almond bliss (white chocolate) and nuts and berries. Look for these at vegan and health food stores.
Nestle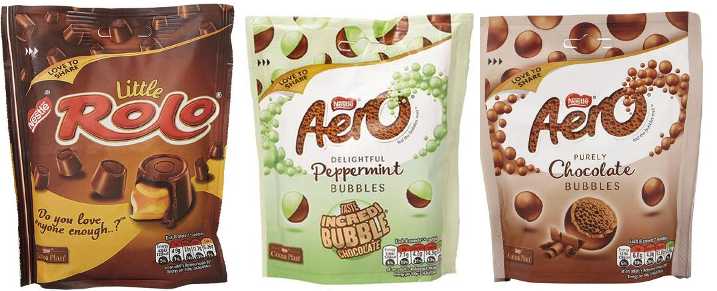 Nestle has recently released pouches of their rolo lollies as well as pouches of both chocolate and mint 'aero bubbles' (round sweets based on their aero bars). If you're surprised to see Nestle on a list like this, read why Just Kai supports many of their products here. Basically, Just Kai trusts certifications rather than companies, and most Nestle confectionery available in New Zealand uses independently-certified UTZ cocoa.
Brands/products removed
Oxfam
Oxfam Australia has closed down all their physical and online stores and has completely moved out of retail. The products Oxfam was selling in New Zealand all originated with Oxfam Australia. The Oxfam online shop in New Zealand is still functional, but their range of products has greatly reduced. We assume they are in the process of shutting down.
Whittakers 250g milk and dark blocks
Since Just Kai began, we have tried to communicate that the Whittakers 250g Creamy Milk and 250g Dark Ghana blocks were Fairtrade certified, whilst the rest of the Whittakers range was made with mass-market cocoa*. This situation has now changed, and Just Kai doesn't currently have a position on it.
*we have also promoted their single-origin Samoan block, as Samoan cocoa is all free of child and slave labour.
All Whittakers products made with Ghanaian cocoa (which is almost their entire range - everything except for the 'artisan' blocks) are moving to Rainforest Alliance certification. This applies both to the products that used to have no certification and those that were formerly certified through Fairtrade.
Rainforest Alliance is a certification that is, itself, in flux. It is in the process of merging with UTZ, and the merged organisation hasn't yet released the standards their cocoa growers will need to adhere to. We simply don't know what standards the cocoa Whittakers is buying will be subject to in the future. Their cocoa will now definitely all be checked to make sure there was no use of child or slave labour (which is a distinct move forward), but we don't know if cocoa growers will be paid a living wage (something UTZ guarantees and Rainforest Alliance currently doesn't). Without this, many cocoa growers will likely be forced to send their kids to work elsewhere as the 'market price' of cocoa is so low that cocoa growers often struggle to survive without the whole family working. For this reason, Just Kai doesn't believe cocoa can be considered truly child labour free unless the workers were paid a living wage or received a guaranteed 'fair price' for their product.
The new standards will be clarified by September at the latest. By then, we are quietly hopeful we will be able to support nearly the entire Whittakers range. However, until that happens, we can no longer support anything they make except their Samoan cocoa. None of their products are now Fairtrade certified and the certification they've moved to is one we do not trust at this stage :-(