As I reported earlier, Just Kai is currently researching slave-free brands of prawns and shrimp. We'd already identified some slave-free wild-caught unprocessed options. Now we have our first brand of slave-free farmed and processed prawns: Kingfisher. Kingfisher is stocked in PakNSave and New World supermarkets; their range includes prawn cutlets, crumbed prawns, prawns ready for stir-fry, and pre-cooked prawns and shrimp.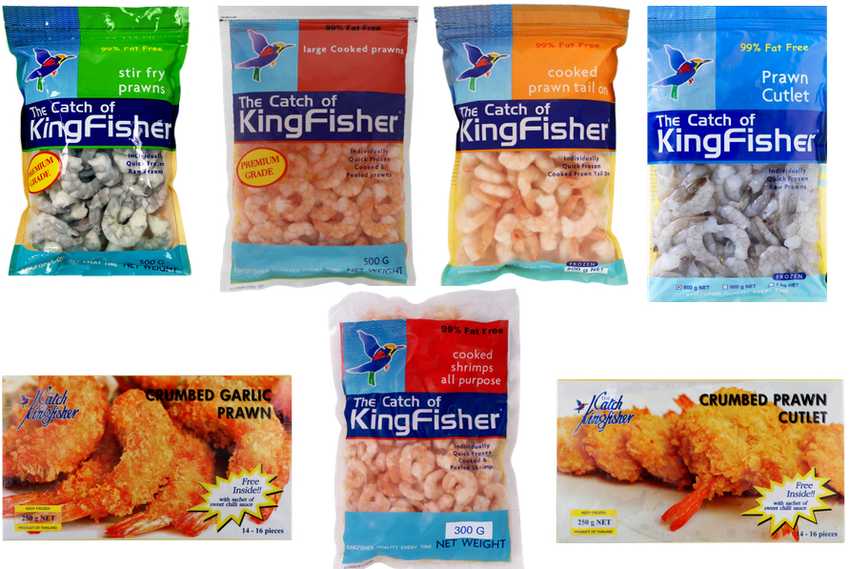 As I noted in my previous post, there are many slavery risk points for farmed and processed prawns and shrimp:
the prawns/shrimp need to have been fed either on fish-free feed (such as Ridley's Prawn Plus No Catch) or on feed that has been audited for human welfare conditions. Slavery is disturbingly common on the boats used to catch the fish processed into fish-food: around 17 to 26% of workers on Thai vessels fishing for fish feed were recently found to be slaves. The only certification we know of that covers the fishing vessels as well as the factories is Global G.A.P.. We are also comfortable with companies that use fish from vessels that the charity Issara works with and that has been processed into feed in inspected factories.
if the prawns/shrimp are farmed in Thailand, ideally the farms will also have been audited for human welfare conditions. Certifications that cover this include ASC, BAP and Global G.A.P. All prawns other than black tiger prawns and banana prawns are likely to have been farmed in Thailand.
if the prawns/shrimp are processed beyond simple cooking and/or freezing (e.g. if they are shelled, have had their heads removed etc.) then, regardless of where the prawns were farmed or caught, this likely happened in Thailand. Prawns seem to regularly be shipped around the world! In Thailand, shrimp peeling is often carried out in poorly regulated 'peeling sheds', many of which use forced labour and child labour. To make sure no slave labour was involved, both the main factory and any pre-processing facilities need to have been subject to independent third-party audits. Factories with SA8000 or TLS8001 certification are subject to suitable audits.
Here's how Kingfisher stacks up!
Kingfisher

Kingfisher is one of the largest seafood companies in Thailand. They farm vannamei and black tiger shrimps as well as selling wild-caught shrimp. They sell under their own brand in PakNSave and New World supermarkets.
Kingfisher was one of the companies named in a notorious 2015 AP report into slavery in the Thai seafood industry. At that time they appeared to have no interest in mitigating such practises in their supply chain. However, things appear to have since changed significantly with Kingfisher. In terms of the key risk points, they:
they themselves produce IFFO-RS certified fish meal: this certification means the fishmeal factory is audited for slave and child labour, but it doesn't indicate that the fishing vessels catching the fish were so audited. However, their fish meal appears to all be from tuna scraps, and Kingfisher has been working since 2017 with UK charity Ocean Mind to monitor working conditions on all Thai-flagged vessels in their tuna supply chain. They also make some efforts in their international supply chain; these don't seem to be all that thorough, but this is an area of lower risk so that isn't a major concern. It seems that not all the fishmeal they use is produced inhouse, however, but (from correspondence) we have learned that they only buy from suppliers who are audited to check for slave and child labour. In addition, they impose strong working condition requirements on suppliers in general, and conduct their own audits to ensure these are being adhered to. They have been supported in this process by the well-regarded NGO Issara.
many of their shrimp farms are subject to external audits by organisations that check for human welfare. Their Trat farm is audited by ASC, others by BAP.
from correspondence we have learned that all their shrimp processing (including initial peeling stages) is done in-house, and has been for several years.
in their factories they adhere to the UN's Good Labour Practises for the Thai seafood industry. They do not charge recruitment fees (a major source of debt bondage). They also have a thorough workforce practises policy that includes no tolerance for forced or child labour. Since 2017 they have worked with the NGO "Worker's Voices" to assess working conditions in all their facilities and have seen improvements in all working conditions metrics measured since then.
Just Kai would like to see more evidence of independent audits of human welfare throughout Kingfisher's supply chain, and cannot be completely confident they are slave free. However, we do believe they have strong human welfare policies and are encouraged by their collaborations with respected NGOs at a number of points in their process. Just Kai recommends prawns and shrimps from Kingfisher.